Nov 29, 2022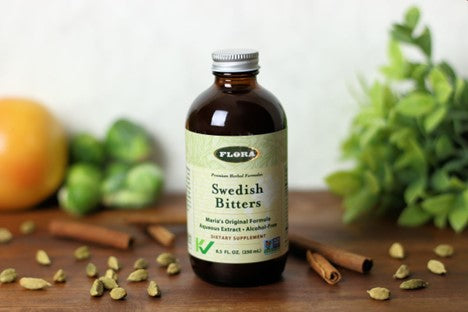 It's universally accepted that humans can taste five dominant basic flavors: sweet, salty, savory (umami), sour, and, of course, bitter. While salty or sweet are pleasing to our taste buds, bitter foods like grapefruit or broccoli with their unmis...
Nov 20, 2018
In today's world, digestive problems are super common. Whether it's indigestion, heartburn, or occasional constipation, an estimated 60-70 million Americans have some kind of digestive difficulty.<1> Turns out, our ancestors knew something a...
Jul 26, 2018
Celebrating a blood sugar friendly, digestion aiding cocktail for the weekend! This one is perfect for sweltering summer evenings after a big meal. It incorporates Flora Swedish Bitters (US/CA) which stimulate bile flow, stomach acid secretion, an...
Dec 19, 2017
Too much turkey? Yeah, we feel you. Try as we might, every year overindulging and the holidays go hand in hand. If you're like us, you might need a little extra help to get your digestion back on track. Our line of probiotics (US/CA), bitters (US/...
Dec 17, 2017
The root of the word liver is, in fact, live. This is no wonder considering the importance of the work it does for us. In the liver, toxins get their chemical makeup altered so we can eliminate them. The liver acts as a bodyguard, identifying bad...
Nov 12, 2017
'Tis the season of button-popping overindulgence. It's so hard to stop eating when there are delicious food temptations everywhere! No matter how much willpower we have, we'll usually feel overfull at some point this month. Fortunately, there is a...
Aug 24, 2017
Have you ever thought about your gallbladder when you last sat down to your favorite meal? No? Well, you're not alone. This friend to our digestive system is commonly forgotten. Your gallbladder's job is to store bile, which is made by the liver. ...