Jun 24, 2021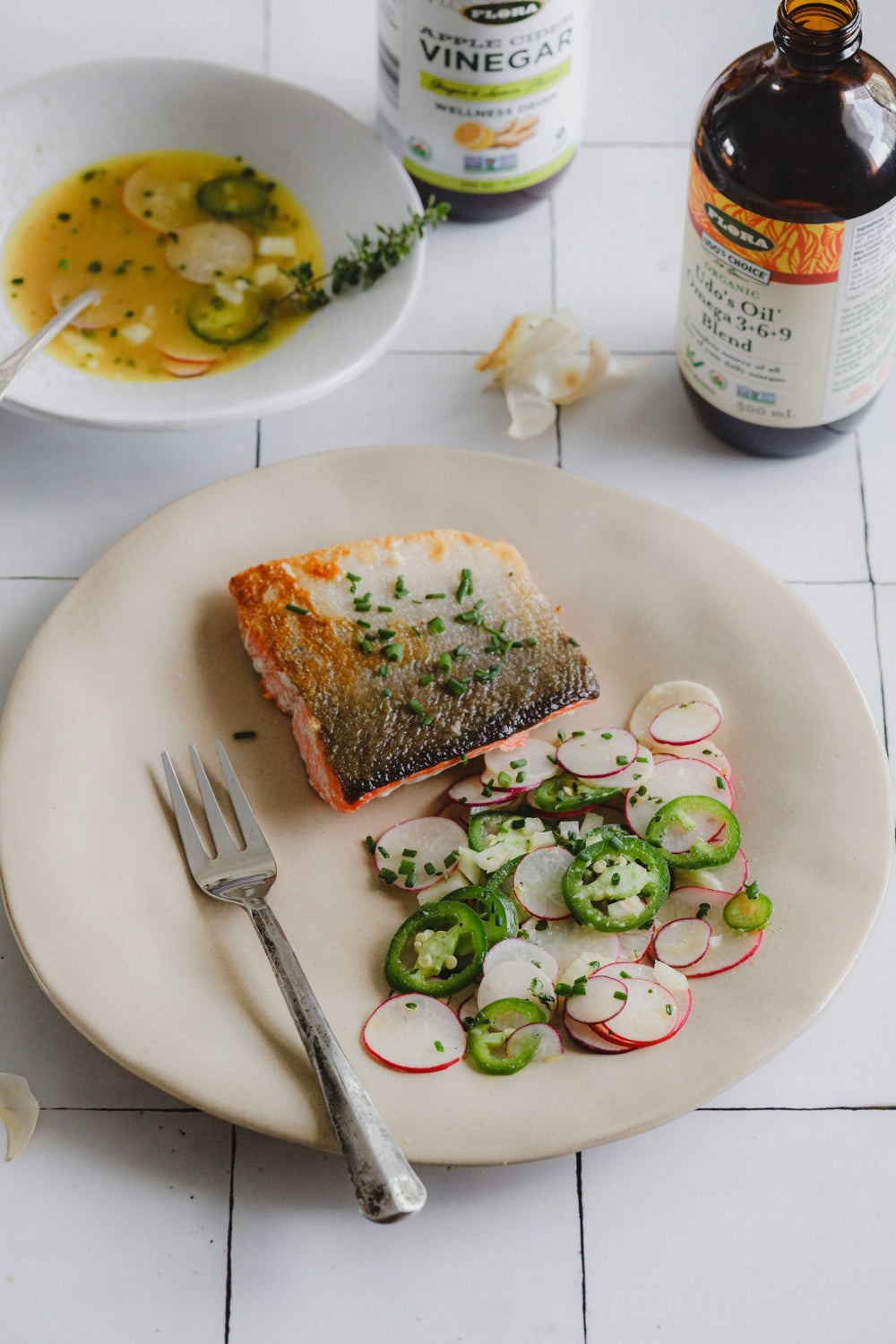 Ingredients Marinade: ½ cup Flora Lemon Ginger ACV Shot ¼ cup Udo's Omega 3.6.9 Oil Blend 3-4 cloves garlic 3 sprigs fresh thyme Salt and pepper, to taste Salad: 1 bunch radishes, sliced ½ a fennel bulb, finely diced 1 jalapeno, sliced (seed...
Nov 22, 2019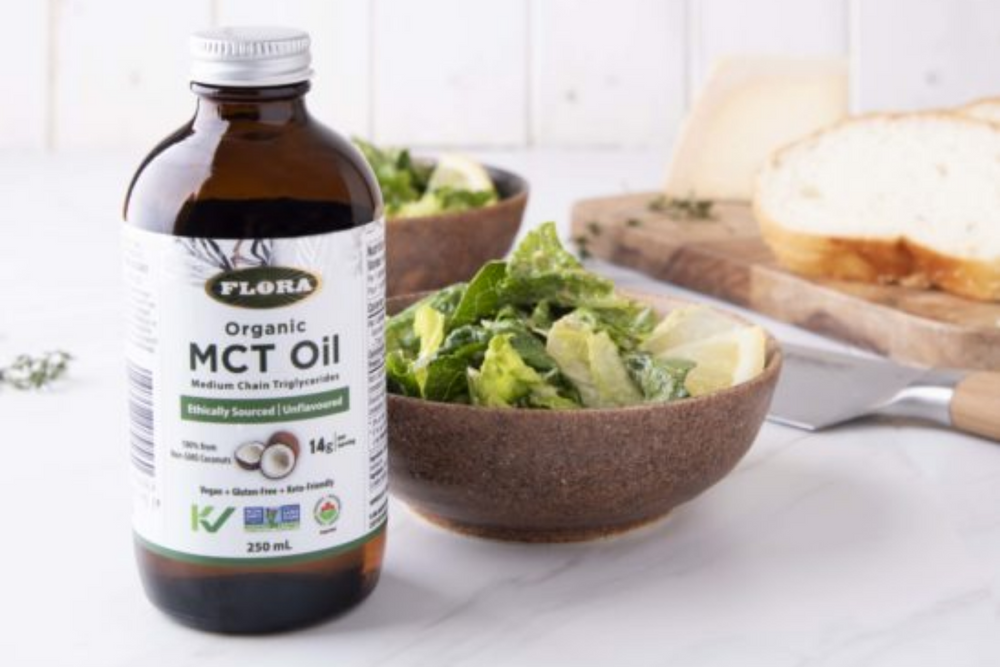 Creamy Caesar Dressing Notes This dressing is best made fresh at the time you wish to use it. Ingredients 1/2 cup Flora Organic MCT oil 1/4 cup hemp hearts 2 medium cloves garlic 1 tbsp. prepared Dijon mustard or 1 tsp dry mustard powder 2 ...
Aug 24, 2019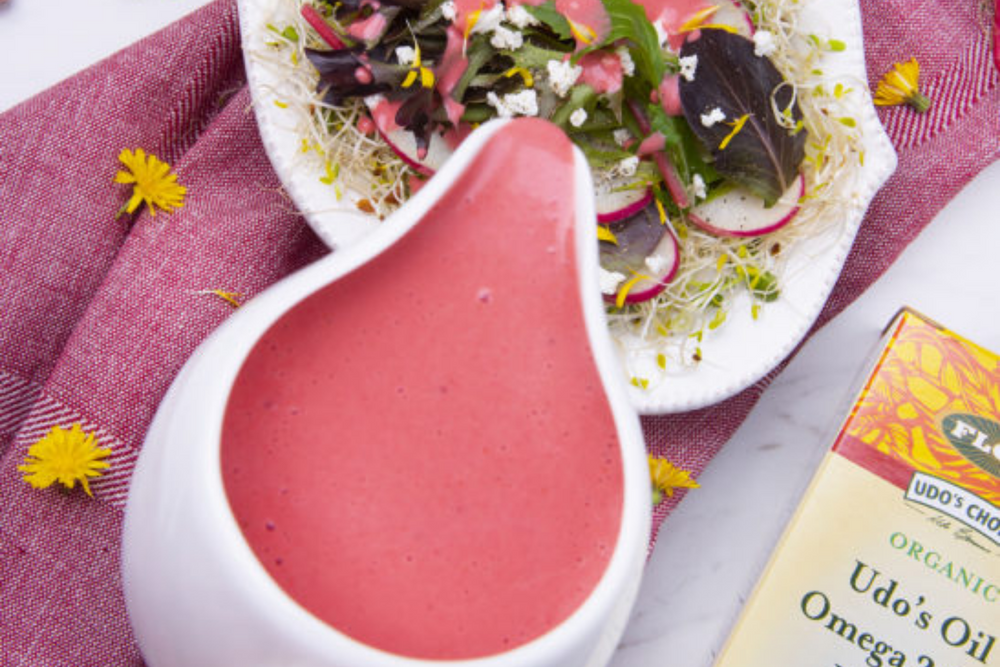 This pretty pink summer dressing is nice over mixed greens, microgreens, or sprouts. You may like to top with crumbled goat cheese and something crunchy, like nuts, seeds, or even radish. This dressing is a rich source of nutrients like omega-3, ...
Aug 15, 2019
Craveable Chive 'n' Cheese Dressing Ingredients 1 egg2 tablespoons lemon juice1 teaspoon garlic powder1/2 teaspoon sea salt1 teaspoon Worcestershire sauce1/2 teaspoon black pepper¾ cup Udo's Oil1/2 cup sour cream3/4 cup crumbled bleu cheese1/4 cu...
May 30, 2019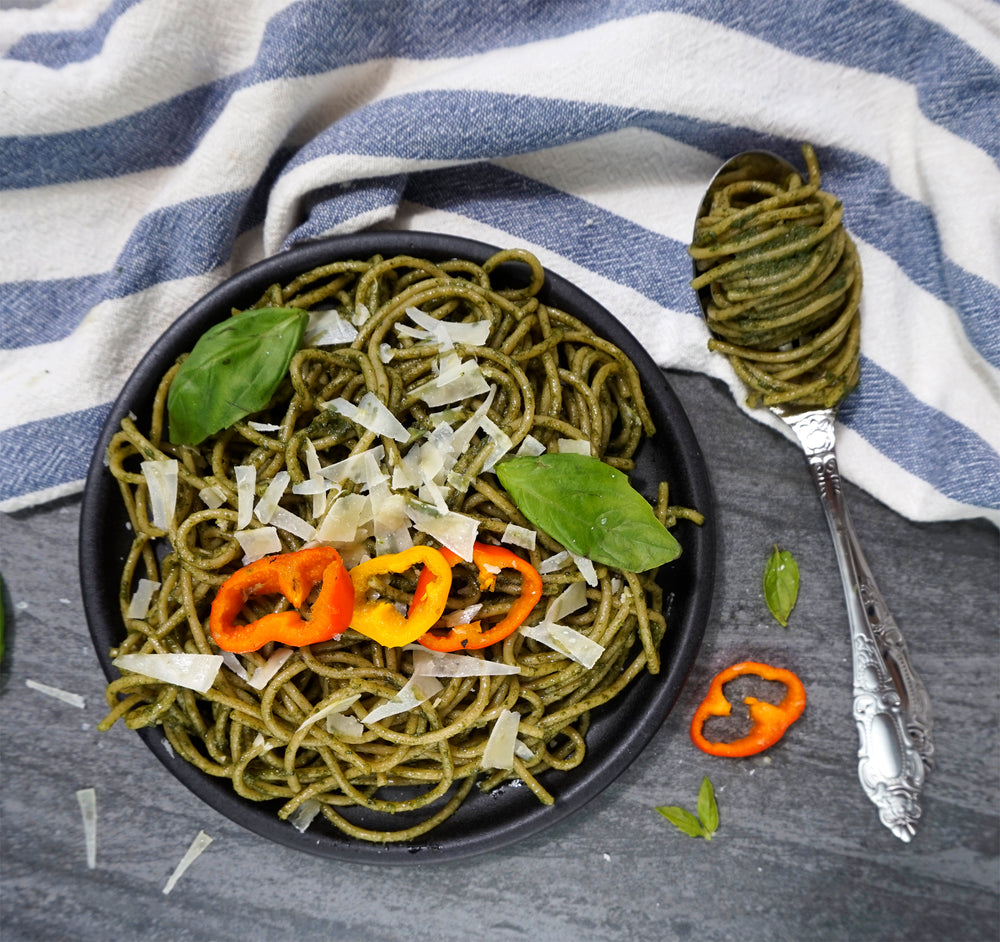 Love pesto? You'll love our take, perfect to top pasta or potato salad, or serve as a spread, at your next potluck. The vibrant flavor and color of VieSun / Gandalf Spirulina™ lends itself perfectly to pesto, adding a hint of health to this s...
May 14, 2019
Ingredients 1/2 cup Flora Ginger and Lemon Flavour Apple Cider Vinegar Drink 1/4 cup Flora Sacha Inchi Oil 2 small garlic cloves 2 tbsp. fresh thyme leaves A couple pinches of pink salt White pepper, to taste Instructions Blend everything ...
Apr 18, 2019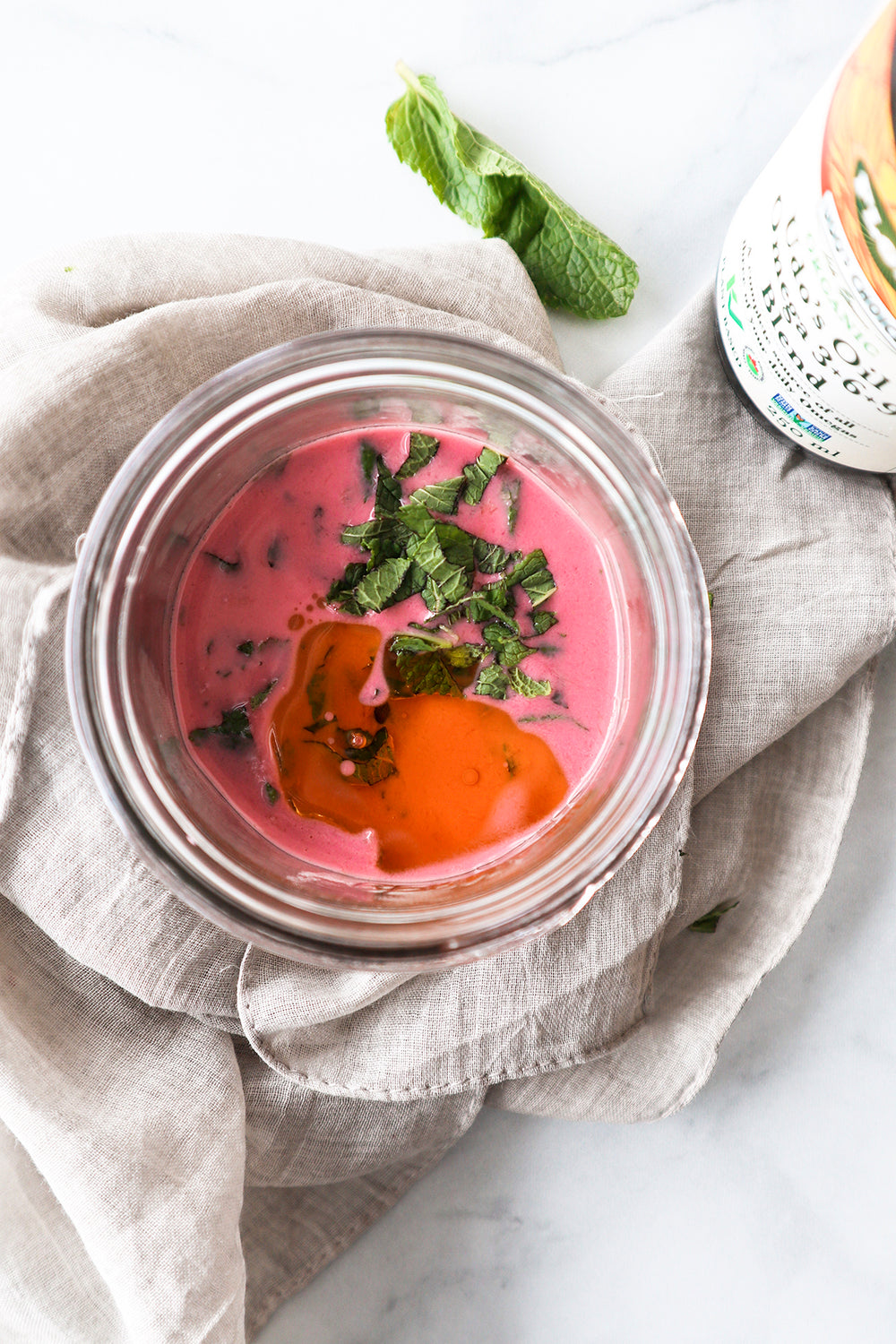 Good quality oils can make such a difference to your diet. Even if you only change this one thing, I believe you'll feel different. This includes: Not using oils to cook with that shouldn't be heated (flax, canola, modified vegetable oils, ma...
Aug 23, 2018
Summer is my favorite time of the year because I LOVE working out outdoors. I love the ease of throwing together a big power bowl after a workout - powered by Flora Omega Sport+! The new Omega Sport+ (US/CA) formula contains MCT oil from coconut a...
Aug 21, 2017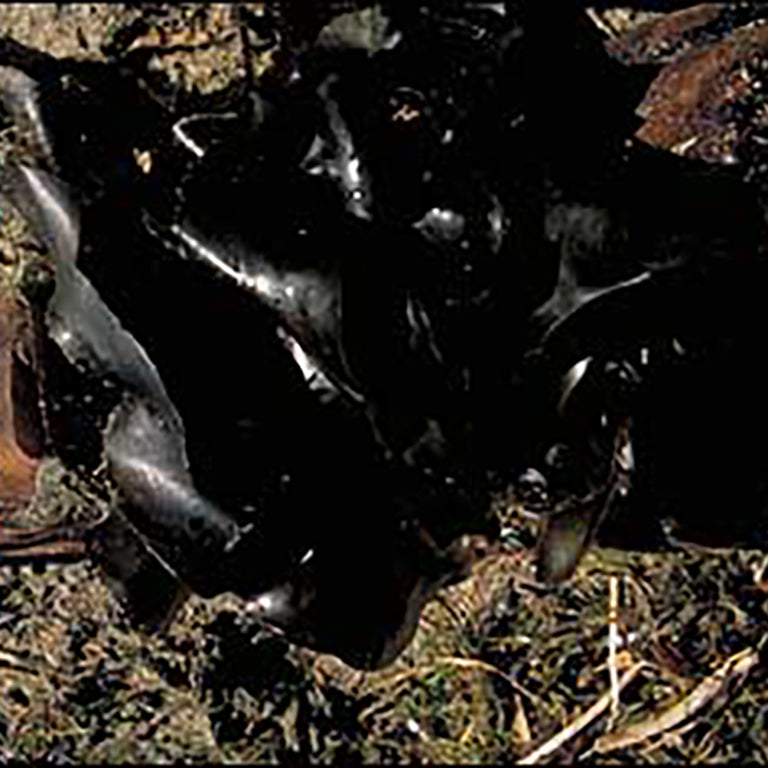 This sweet and crunchy salad is perfect for hot summer days when you can't stand to turn the oven on. The salad is packed with spinach, julienned carrots, celery, banana chunks, raisins, shredded unsweetened coconut flakes, and walnuts. Tossed in ...
Jun 27, 2017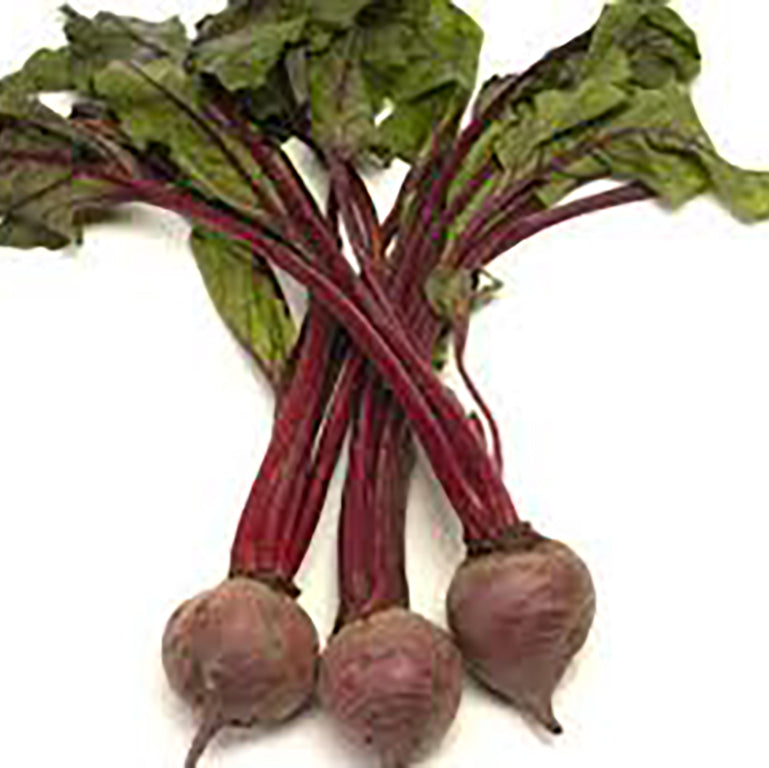 Perfect for a fresh summer salad paired with your favorite berries! This sunflower seed oil-based vinaigrette is super flavorful and offers some of the benefits that come from sunflower seeds themselves—such as increased energy, uplifted mood, and...
Jan 12, 2017
If you are thinking about getting your five-a-day in one go, then this Manuka Honey Winter Salad is for you. The secret of this recipe is hidden in the sauce, so don't miss the best part! <40>40>